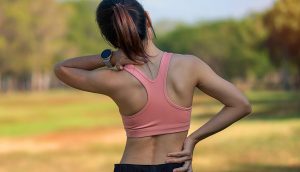 PEMF Therapy vs Red Light Therapy: which treatment is best for you? Let's take a look at these two therapies, the benefits, costs and side effects.
What Is PEMF Therapy?
Pulsed Electromagnetic Field Therapy (PEMF) is a type of therapy that nurtures cellular communication. This therapy will in turn enhance self-healing and overall wellness. Recently, PEMF has become increasingly popular for chronic and autoimmune disease states. Typically, patients that opt for PEMF therapy are ones that suffer from infectious disease, Lyme, autoimmune disease and other various injuries.
Cellular communication, which is crucial for the body's adaptation/regulation processes, helps maintain overall health. This will also help dealing with diseases and cell deterioration. Every organ in the body has its own bio-electromagnetic field, and each cell in the body will communicate through electromagnetic signals or fields. This occurs at a rate of trillions of chemical reactions per second.
Whenever these communication exchanges are blocked or disrupted, cells, organs and tissues can be compromised. Unhealthy symptoms will then follow for any individual experiencing blocked or disrupted communication.
What Is Red Light Therapy?
Red Light Therapy is a treatment used to help muscle tissue, skin and various other body parts heal effectively. This therapy is performed by exposing an individual to a low level of red or near-infrared light. You will not be able to see the infrared light, but your body can feel it as heat.
Red Light Therapy can also be referred to as Low-Level Laser Therapy, Photobiomodulation and Low-Power Laser Therapy.
The patient will start by having their skin exposed to a lamp or some other device featuring a red light. One part of your cells called mitochondria will soak up the light to create more energy. The mitochondria is often referred to as the "power generators" of the cells. Some medical experts believe Red Light Therapy helps cells repair themselves, while also improving overall health. This will stimulate skin and muscle tissue healing processes.
Red Light Therapy treatments use very low levels of heat. This will not burn nor hurt the skin. For those wondering, no, this is not the same type of lighting used in tanning booths. This therapy will not expose your skin to harmful UV rays. Red Light Therapy is primarily used to treat dental pain, dementia, tendinitis, wrinkles, hair loss and osteoarthritis.
PEMF Therapy Benefits
Here are just a few of the numerous benefits of PEMF therapy:
Speeds up the body's natural recovery process
Creates more natural energy
Recover from injury faster
Improves athletic performance
Reduces pain and inflammation
Improves circulation
Better sleep
The experts relate PEMF therapy to recharging your phone's battery. Through this treatment, though, electromagnetic waves are emitted to stimulate and speed up the body's natural recovery process.
PEMF therapy will stimulate production of ATP. The transport of nutrients, coenzymes and oxygen are aided through PEMF therapy. These are things that the body requires to create natural energy.
This is a big reason why so many athletes choose PEMF treatments. Regular use of a PEMF device can relax muscles, sooth nerves, all helping the body to heal quicker.
More and more athletes at all levels are choosing PEMF for recovery needs. Constantly pushing your muscles and joints to their limits can cause issues, of course. PEMFs simply pass through the body, stimulating the healing process. Keep any foreign substances from entering the body by investing in PEMF therapy.
PEMF therapy can treat the cellular source of swelling by recharging cells using a mild electromagnetic current. Countless clinical studies have shown that PEMFs have been successful in reducing pain and inflammation in individuals.
PEMF therapy can improve circulation and increase blood flow in a number of different ways. These include the promoting of blood vessel dilation, reducing platelet adhesiveness, changing pliability of red blood cells and reducing edema, among other mechanisms.
Undergoing PEMF therapy for sleep will result in re-tuning your brain for maximum efficiency. By stimulating the brain through PEMF devices, the brain will start to focus on the signal that mimics a state of deep sleep.
Red Light Therapy Benefits
Improves Skin Condition
Repairs Hair Loss
Decreased Inflammation
Helps Muscle Recovery
Sleep Better
Weight Loss
Treats Degenerative Brain Disorders
Many people have suffered from chronic skin conditions related to sun exposure. Red Light Therapy utilizes wavelengths of light to promote healthy cellular activity. By increasing blood flow to the scalp, while also stimulating the metabolism of hair follicles, this therapy can certainly help with hair loss, as well.
Just like PEMF Therapy, this can be used to decrease inflammation. Mostly, individuals will undergo Red Light Therapy to decrease inflammation related to joint pain. As mentioned earlier, Red Light Therapy can stimulate the healing process. This is especially useful for today's athletes. Let Red Light Therapy help your muscles recover as quickly as possible.
One study showed people who undergo 30-minute treatments regularly see an overall improvement in sleep quality. Individuals struggling with weight loss often turn to this therapy. Red Light has been proven to raise the resting metabolic rate, which results in more calories burned while resting. This therapy can be effective for stabilizing dying nerve cells, and one day potentially serving as a treatment for Parkinson's disease.
How Much Does PEMF Therapy Cost?
On average, a 30-minute PEMF therapy session will cost $45, with prices ranging from $30-$60. Of course, costs will vary based on several factors, including location, availability and provider. Most insurance plans will not cover PEMF therapy, according to PEMFComplete.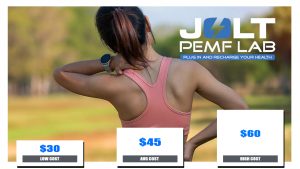 *This is not an actual quote from Jolt PEMF Lab. Contact us here for more information.
How Much Does Red Light Therapy Cost?
According to Healthline, a Red Light Therapy session costs an average of $55, with prices ranging from $25-$85. Costs will fluctuate depending on location.

Is PEMF Therapy Safe?
Yes, PEMF therapy is a safe and well-studied treatment for numerous mind and body conditions. While this form of therapy has been around for decades, its popularity has spiked due to its natural healing qualities. PEMF offers nearly limitless healing potential, especially when combined with other therapies like meditation and exercise.
Discomfort is not uncommon with PEMF therapy, though. However, these negative reactions only occur around five percent of the time when PEMF treatment has begun. Additionally, mild adverse reactions typically only occur during whole body treatments. Most side effects will be mild and temporary, and it is rare for patients to discontinue therapy altogether due to side effects.
Is Red Light Therapy Safe?
According to WebMD, red light therapy is generally considered safe. Yet, there are no set rules on how much red light treatment is enough or too much. Too much therapy has the potential to damage skin tissue, while too little therapy may not yield the desired results.
Side Effects Of PEMF Therapy
There are a few side effects associated with PEMF therapy, including:
Temporary Pain Increase
For patients suffering from severe or prolonged pain, excessive use of pain medications can cause an array of serious health issues. PEMF therapy provides a suitable alternative to painkillers. However, along the lines of pain alleviation, there are some side effects associated with PEMF. For instance, temporary pain may increase in the immediate aftermath. This temporary discomfort is caused by improved circulation to the nerves and/or improved traffic to nerve cells. Patients in severe pain should always start PEMF treatments at the lowest possible intensity.
Oxidative Stress
Oxidative stress will occur when there is an excessive amount of free radicals in the body. The body will not have the capacity to detoxify, meaning these harmful effects cannot be stopped. Anti-oxidants taken before or during therapy can counter this side effect. Eating foods rich in antioxidants, such as vegetables and fruits, can also be helpful.
Decreased Blood Pressure & Blood Sugar Levels
A couple other side effects of PEMF include decreases in blood pressure/blood sugar levels and a reduction in heart rate. Unfortunately, this side effect can be catastrophic to some patients, especially the elderly or individuals with pre-existing defects in the cardiovascular system. Dizziness can occur for individuals not used to changes in blood pressure. A significant fall in blood sugar levels is a possibility, as well. Refrain from undergoing PEMF therapy if you are currently using aspirin or other anticoagulant drugs.
Side Effects Of Red Light Therapy
Because red light therapy is a natural process, there is virtually no risks of side effects. Unlike UV light that comes from the sun, red light therapy exposes the skin to levels of light that are not harmful. However, a practitioner with little experience can cause cell and tissue damage. Home products can also lead to misuse, which can cause skin damage, burns or damage to unprotected eyes.
Jolt PEMF Lab In Scottsdale, AZ
Jolt PEMF Lab provides critical energy the body needs to make new, healthy cells. It is a place to recharge, repair, and maintain optimal health through stimulating cellular repair. PEMF is the science of creating health and addressing the root causes of chronic disease and pain. Jolt PEMF, located in Scottsdale, AZ, simply gives your body the energy it needs to support its own natural healing. Our mission is to transform your health, body, and energy and that through results, PEMF will become the future of healthcare. Contact us for a free consultation today!
More Articles About Health