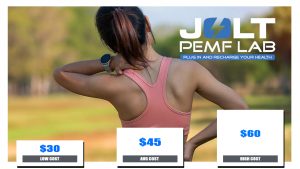 On average, a 30-minute PEMF Therapy session will cost $45, with prices ranging from $30-$60 in the US in 2023. Of course, costs will vary based on several factors, including location, availability and provider. Most insurance plans will not cover PEMF therapy, according to PEMFComplete.
PEMF Therapy Cost
There are two options when it comes to undergoing PEMF Therapy: you can either visit a wellness professional or purchase a machine of your own. Wellness professionals may charge based on the type of treatment you are receiving or by the minute. Typically, 30-minute sessions will cost between $30-$60, as previously mentioned.
Lowest Cost: $30
Average Cost: $45
Highest Cost: $60
*This is not an actual quote from Jolt PEMF Lab. Contact us here for more information.
PEMF Therapy Machine Cost
Investing in a personal PEMF Therapy machine is wise when you are dealing with a chronic issue. The more often you use your PEMF machine, the more the value grows. Daily 30-minute sessions are recommended for anyone looking for health and recovery benefits. It goes without saying that investing in a personal machine can be quite costly.
Lowest Cost: $350
Average Cost: $14,000
Highest Cost: $25,000+
What Is PEMF Therapy?
Pulsed Electromagnetic Field Therapy (PEMF) is a type of therapy that nurtures cellular communication. This therapy will in turn enhance self-healing and overall wellness. Recently, PEMF has become increasingly popular for chronic and autoimmune disease states. Typically, patients that opt for PEMF therapy are ones that suffer from infectious disease, Lyme, autoimmune disease and other various injuries.
Cellular communication, which is crucial for the body's adaptation/regulation processes, helps maintain overall health. This will also help dealing with diseases and cell deterioration. Every organ in the body has its own bio-electromagnetic field, and each cell in the body will communicate through electromagnetic signals or fields. This occurs at a rate of trillions of chemical reactions per second.
Whenever these communication exchanges are blocked or disrupted, cells, organs and tissues can be compromised. Unhealthy symptoms will then follow for any individual experiencing blocked or disrupted communication.
Does PEMF Therapy Work?
Yes! PEMF therapy has been proven proven beneficial through numerous clinical studies. This treatment can improve athletic performance, stimulate cell metabolism, reduce pain and inflammation, and overall help your body recover from injury as fast as possible. PEMF therapy has shown to increase the cellular level of oxygen absorption by nearly 200 percent. This can instantly reduce pain associated with a lack of sufficient oxygen in the body.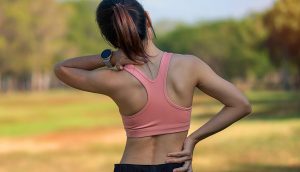 PEMF Therapy Benefits
Here are just a few of the numerous benefits of PEMF therapy:
Speeds up the body's natural recovery process
Creates more natural energy
Recover from injury faster
Improves athletic performance
Reduces pain and inflammation
Improves circulation
Better sleep
Supports immune system
Stimulates Autonomic Nervous System
Relaxes muscles
How To Find PEMF Therapy Near Me
The average human no longer needs to go through life dealing with bloating, indigestion, joint pain or insomnia, thanks to PEMF therapy. Jolt PEMF Lab in Scottsdale, AZ provides PEMF therapy to improve your overall immunity, energy and health. Jolt strives to give patients a long-term alternative to surgery, injections and drugs. When focusing on creating health instead of treating illness, diseases will go away.
Chronic diseases develop when our body loses the ability to generate cells that function properly. PEMF provides a safe, non-invasive therapy to charge your cells by sending gentle energy waves throughout the body. This new energy will improve oxygenation and change circulation, at the same time.
PEMF will destroy weak cells, while also recharging damaged bones, tissues and organs. This will stimulate repair in deficient cells. Jolt PEMF Lab supports a whole-body approach of cellular health, and currently offers the only solid state, clinical grade PEMF systems on the market today. Let Jolt PEMF Lab provide your body with the energy it needs to support its own healing processes today!
PEMF Therapy is used to treat:
Arthritis
Athletic Performance
Joint Inflammation
Cancer
Chronic Pain
Prostate
Erectile Dysfunction
Lyme's Disease
Auto-Immune Disorders
Sleep Disorders
Jolt PEMF Lab In Scottsdale, AZ
Jolt PEMF Lab provides critical energy the body needs to make new, healthy cells. It is a place to recharge, repair, and maintain optimal health through stimulating cellular repair. PEMF is the science of creating health and addressing the root causes of chronic disease and pain. Jolt PEMF, located in Scottsdale, AZ, simply gives your body the energy it needs to support its own natural healing. Our mission is to transform your health, body, and energy and that through results, PEMF will become the future of healthcare. Contact us for a free consultation today!
More Articles About Health