If you are searching for "how to improve deep sleep" using PEMF Therapy, this article is for you! The good news is, yes, PEMF Therapy has been proven to help improve sleep patterns and overall quality of sleep. 
PEMF Therapy For Sleep
Put simply, PEMF Therapy can re-tune your brain when it comes to sleep. This process, known as brainwave entrainment, stimulates the brain with low-frequency PEMF Therapy devices, helping the brain to lock into signals mimicking deep sleep. 
Balancing your brain's activity is essential for maximum brain health. This is where BioBalanced PEMFs come into play. The pulsed electromagnetic fields will balance your body's bio-energy system, which results in minimized emotional stress that contributes to insomnia. 
The low-frequency PEMFs help to stimulate the brain to follow normal sleep patterns of electromagnetic activity. Undergoing regular PEMF Therapy can help the brain remember exactly how to trigger a deep sleep state. PEMF Therapy for deep sleep is generally most productive when used just before going to bed for the night.
PEMF Therapy is the perfect non-invasive, drug-free solution to many sleep disorders, including insomnia and anxiety. While you sleep, proteins that were active during the day are now essentially going to waste. When the waste builds and builds, it slows the progression of normal thoughts and patterns of the brain. PEMF Therapy has been proven to help individuals suffering from Alzheimer's to enjoy better quality sleep, as well. 
How Much Does PEMF Therapy For Sleep Cost?
On average, a 30-minute PEMF therapy session will cost $45, with prices ranging from $30-$60. Of course, costs will vary based on several factors, including location, availability and provider. Most insurance plans will not cover PEMF therapy, according to PEMFComplete.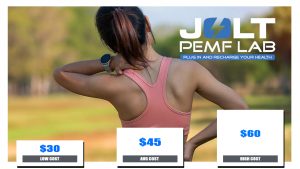 *This is not an actual quote from Jolt PEMF Lab. Contact us here for more information.
PEMF Therapy In Scottsdale, AZ
The average human no longer needs to go through life dealing with bloating, indigestion, joint pain or insomnia, thanks to PEMF therapy. Jolt PEMF Lab in Scottsdale, AZ provides PEMF therapy to improve your overall immunity, energy and health. Jolt strives to give patients a long-term alternative to surgery, injections and drugs. When focusing on creating health instead of treating illness, diseases will go away.
Chronic diseases develop when our body loses the ability to generate cells that function properly. PEMF provides a safe, non-invasive therapy to charge your cells by sending gentle energy waves throughout the body. This new energy will improve oxygenation and change circulation, at the same time.
PEMF will destroy weak cells, while also recharging damaged bones, tissues and organs. This will stimulate repair in deficient cells. Jolt PEMF Lab supports a whole-body approach of cellular health, and currently offers the only solid state, clinical grade PEMF systems on the market today. Let Jolt PEMF Lab provide your body with the energy it needs to support its own healing processes today!
Jolt PEMF Lab
Jolt PEMF Lab provides critical energy the body needs to make new, healthy cells. It is a place to recharge, repair, and maintain optimal health through stimulating cellular repair. PEMF is the science of creating health and addressing the root causes of chronic disease and pain. Jolt PEMF, located in Scottsdale, AZ, simply gives your body the energy it needs to support its own natural healing. Our mission is to transform your health, body, and energy and that through results, PEMF will become the future of healthcare. Contact us for more information today!
More Articles About Health