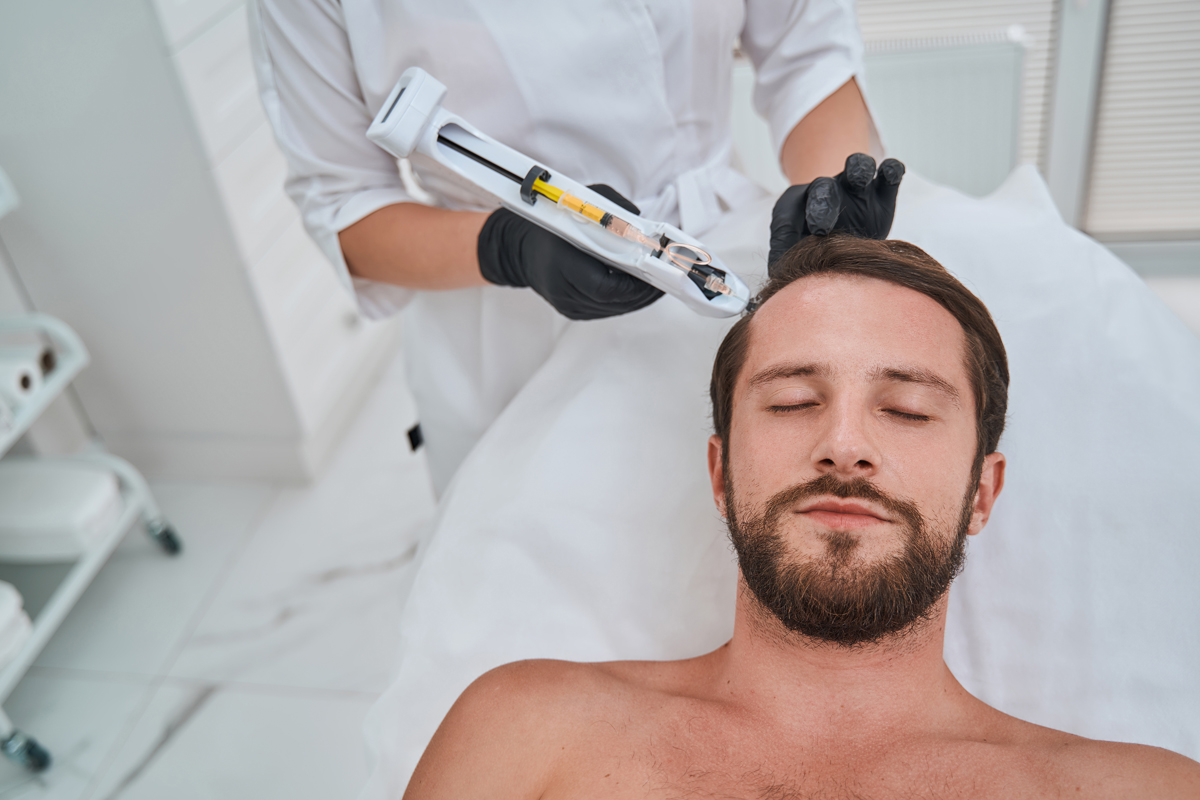 If you are struggling with hair loss and are curious about undergoing red light therapy treatment, this article will outline how this therapy works to promote hair growth.
What Is Red Light Therapy For Hair Loss?
Red light therapy is a safe, natural and effective way to stimulate hair growth. A visible red light laser is applied to the scalp, which the body can harness and turn into cellular energy. This will stimulate the body's natural healing process, potentially promoting hair growth/regrowth.
In a recent study, participants were treated with red light therapy every other day for four months, resulting in a total of 60 treatments. This group saw a 35% increase in hair growth, overall.
Common Causes Of Hair Loss
Hair loss, unfortunately, can happen to anyone at any time for multiple reasons. These are some of the leading causes of hair loss today:
Stress: High anxiety levels will impact both the mind and hairline. In many cases, hair loss caused by stress is temporary and once the stress is alleviated, your hair will often return to its normal thickness and length.
Medical Conditions: Some autoimmune diseases are capable of attacking the immune system and causing hair loss. Fungal issues and scalp infections can also lead to hair growth difficulties.
Family History: Androgenetic alopecia is a genetic type of hair loss passed down through family. This typically impacts more men than women.
Hormonal Changes: Hormonal shifts in the body like a pregnancy or menopause can change hair density and volume.
What Does Red Light Therapy For Hair Loss Look Like?
Therapeutic wavelengths must come from LED sources with maximum power to be effective. You can maximize your results by seeing a professional for this service instead of trying it yourself at home. Treatment caps claim to promote hair growth by delivering light wavelengths that stimulate the mitochondria, promoting blood flow across the scalp.
Red light therapy can also influence the creation of new capillaries that bring essential nutrients and oxygen to the cells. Professionals can create a specific treatment plan based on your hair loss and end goals. They will help to determine the proper wavelength level, length and frequency of your treatments.

Red Light Therapy Pros
Improves Skin Condition
Repairs Hair Loss
Decreased Inflammation
Helps Muscle Recovery
Sleep Better
Weight Loss
Treats Degenerative Brain Disorders
Many people have suffered from chronic skin conditions related to sun exposure. Red Light Therapy utilizes wavelengths of light to promote healthy cellular activity. By increasing blood flow to the scalp, while also stimulating the metabolism of hair follicles, this therapy can certainly help with hair loss, as well.
Just like PEMF Therapy, this can be used to decrease inflammation. Mostly, individuals will undergo Red Light Therapy to decrease inflammation related to joint pain. As mentioned earlier, Red Light Therapy can stimulate the healing process. This is especially useful for today's athletes. Let Red Light Therapy help your muscles recover as quickly as possible.
One study showed people who undergo 30-minute treatments regularly see an overall improvement in sleep quality. Individuals struggling with weight loss often turn to this therapy. Red Light has been proven to raise the resting metabolic rate, which results in more calories burned while resting. This therapy can be effective for stabilizing dying nerve cells, and one day potentially serving as a treatment for Parkinson's disease.
Red Light Therapy Cons
Long-Term Commitment
Quality Can Vary
Unknown Long-Term Effects
Some People Are Sensitive To Light
Expensive
One downside to Red Light Therapy is the time commitment. Patients must commit to ongoing treatments for optimal results. Some may be done with treatments within a month, while others may have to continue indefinitely for desired outcomes. The quality of devices used can vary, unfortunately. Some devices may not have enough light intensity to experience the benefits
Red Light Therapy does appear safe for short-term use, but long-term effects are still being studied at this time. For people who are sensitive to light, phototherapy may not be your best choice for treatment.
According to Healthline, a Red Light Therapy session costs an average of $55, with prices ranging from $25-$85. Costs will fluctuate depending on location.
Jolt PEMF Lab In Scottsdale, AZ
Jolt PEMF Lab provides critical energy the body needs to make new, healthy cells. It is a place to recharge, repair, and maintain optimal health through stimulating cellular repair. PEMF is the science of creating health and addressing the root causes of chronic disease and pain. Jolt PEMF, located in Scottsdale, AZ, simply gives your body the energy it needs to support its own natural healing. Our mission is to transform your health, body, and energy and that through results, PEMF will become the future of healthcare. Contact us for a free consultation today!
More Articles About Health