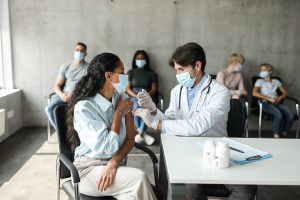 The following is a list of natural treatments that can be used to help fight long COVID symptoms.
Long Haul Covid Treatments
There are many different ailments brought on by long COVID, including general fatigue. The following treatments can help alleviate any pain and discomfort.
1. Probiotics
It's no secret COVID can wreak havoc on your gut microbiome, but researchers continue to assess specific probiotic strains that can restore balance. Eating fermented foods, including yogurt, sauerkraut, kimchi and kefir, can help support the gut's microbiome. Talk to your functional medicine provider for other suggestions in the event of ongoing gut disturbances.
2. Melatonin
Melatonin is an anti-inflammatory and antioxidant chemical our bodies produce naturally to keep our sleep-wake cycle consistent. It also helps support gut lining, promoting healthy immune function overall. Supplementing with 1 mg of melatonin just before bed may help regulate sleep patterns that have been disturbed due to long COVID.
3. Quercetin
This is a flavonoid that is found in foods like broccoli, onions, apples and berries. It is considered a mast-cell stabilizer, used commonly by people with allergies and asthma. Quercetin appears to bind to the spike protein of the coronavirus, inhibiting inflammatory pathways and blocking the replication of infected cells. Long-COVID patients can supplement with 500 mg, twice per day.
4. Pemf Therapy
Pulsed Electromagnetic Field Therapy (PEMF) is a type of therapy that nurtures cellular communication. This therapy will in turn enhance self-healing and overall wellness. Cellular communication, which is crucial for the body's adaptation/regulation processes, helps maintain overall health. Whenever these communication exchanges are blocked or disrupted, cells, organs and tissues can be compromised.
PEMF is seen as a promising new treatment to manage fatigue brought on by long COVID. Fatigue is a common symptom for COVID survivors, and PEMF can be utilized to rejuvenate cells and your overall energy levels.
5. Intermittent Fasting
Some healthcare professionals believe intermittent fasting can rejuvenate the immune system. Limiting feeding to shortened windows of time can help stimulate mitophagy. Fasting will also support the turnover of damaged cells, making room for healthier cells to replace them. Try eating all your meals within an 8-hour window, then going the next 16 hours without food.
6. Vitamin D
There has been a lot documented regarding the link between COVID severity and vitamin-D deficiency. Loading up on Vitamin D can help fight issues brought on by long COVID. This can also help to prevent severity before COVID is ever contracted.
7. Diet And Nutrition
A bad diet can be a source of inflammation, so the recommendation is to do whatever you can to lower inflammation, which allows the immune system to operate better. Limit your intake of refined carbohydrates. Instead, fill your diet with fiber, protein and healthy fats to help your immune system thrive.
Health Spa In Scottsdale, AZ
Jolt PEMF Lab provides critical energy the body needs to make new, healthy cells. It is a place to recharge, repair, and maintain optimal health through stimulating cellular repair. PEMF is the science of creating health and addressing the root causes of chronic disease and pain. Jolt PEMF, located in Scottsdale, AZ, simply gives your body the energy it needs to support its own natural healing. Our mission is to transform your health, body, and energy and that through results, PEMF will become the future of healthcare. Contact us for a free consultation today!
More Articles About Health