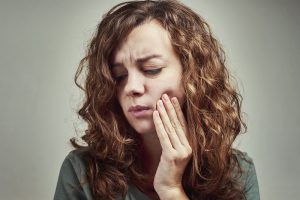 If you are currently suffering from jaw pain, the good news is you are not alone! Temporomandibular joint disorder (TMJ) is very common. So, how can you cure TMJ permanently? Follow our advice below.
What Is TMJ?
The TMJ is what connects the skull to the lower jaw. A disc then separates the two sections that contain the TMJ. This disc will absorb the shock to the joints, which is caused by jaw movements. These movements can include anything from chewing to smiling. This system allows the jaw to move in all directions with the help of surrounding joints and muscles.
TMJ disorders are a group of conditions that happen when something affects the ability of the system to work correctly. This will undoubtedly cause pain and overall discomfort in the area. TMJ disorders are very common, according to the NIDCR. An estimated 10 million Americans deal with TMJ disorders.
Signs Of TMJ
In most cases, TMJ pain is random, but there have been cases where the pain is caused by arthritis or trauma to the area. TMJ is typically found in individuals that grind their teeth and/or clench their jaw. TMJ tends to affect women more often than men.
When you notice TMJ pain, it's important to consider if there are any other issues involving the jaw. TMJ can unfortunately lead to other issues, such as depression, anxiety or insomnia, in some cases. TMJ can become severe and eventually require surgery.
TMJ symptoms can include the following:
Headaches.
Pain around the jaw, ears, neck and face.
Limited jaw movement.
Difficulty chewing. 
Clicking or popping sounds when moving the jaw.
Ear pain.
Locking of the jaw.

How To Cure TMJ
It is possible for TMJ to simply disappear without any need for treatment. However, this is not a common occurrence. If you are dealing with consistent TMJ pain, it's best to seek medical help from a professional. These three tips below can help you manage the pain.
Custom-Made Splints
Custom-made splints are designed to be fitted over your lower or upper teeth. Essentially, the splints act as cushions between your teeth to prevent any clenching or grinding. This helps to rest the TMJ, allowing it to recover without hindrance. Once the pain subsides, it's recommended to keep using the splints. Leaving them in for another two or three days will help the joint recover completely.
Physical Therapy
Utilizing physical therapy will help exercise the joint. For example, chin tuck and tongue up exercises can help immensely. TMJ exercises will help pain relief and give more range for mouth openings. Besides physical therapy, acupuncture and massages can help curb the pain brought on by TMJ disorders.
Take Precautions At Home
If you do not plan on seeking professional help for this issue, there are some simple preventative steps you can take at home. Eating soft foods, for instance, will give your jaw a break from constantly chewing aggressively. Applying a cold compress and moist heat will reduce pain and inflammation. Over-the-counter medications are also available to help you deal with TMJ pain.
Can PEMF Therapy Help Cure TMJ?
Yes, PEMF therapy can be used to help treat pain caused by TMJ. Pulsed Electromagnetic Field (PEMF) therapy is a form of regenerative therapy that revitalizes damaged tissues. The revitalization happens through restoration of the body's cells' magnetic charge to healthy levels. Related to TMJ, this therapy has been proven to help with pain relief and improve mandibular range of motion.
PEMF therapy is actually one of the most effective forms of pain relief, especially when compared to conventional treatments. Alternative conventional treatments include anesthesia, low-level lasers and dry needling. If you are interested in undergoing PEMF therapy to treat pain caused by TMJ, then contact Jolt PEMF Lab in Scottsdale, AZ today!
Jolt PEMF Lab In Scottsdale, AZ
Jolt PEMF Lab provides critical energy the body needs to make new, healthy cells. It is a place to recharge, repair, and maintain optimal health through stimulating cellular repair. PEMF is the science of creating health and addressing the root causes of chronic disease and pain. Jolt PEMF, located in Scottsdale, AZ, simply gives your body the energy it needs to support its own natural healing. Our mission is to transform your health, body, and energy and that through results, PEMF will become the future of healthcare. Contact us for a free consultation today!
More Articles About Health