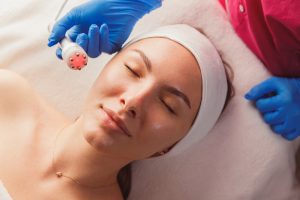 While red light therapy treatment is not a one-size-fits-all solution, most people report good results with a 15-minute daily session between 3-5 times per week for several months. Red light therapy is becoming more and more popular for individuals seeking relief from joint pain and chronic skin conditions, among other ailments.
How Often To Do Red Light Therapy
There are many factors that can help you figure out how often you should undergo red light therapy treatment. Factors will include the severity of the skin condition, sensitivity to light, age and overall health. Even though red light therapy is safe and rarely has any side effects, the professionals still recommend a slow introduction to the treatment at first.
For the first week of treatment, it is suggested to start with a 10-minute session every other day. You may feel a gentle warmth in your skin after these treatments. Especially sensitive patients may experience some temporary tightness or redness. If this happens, you should either decrease the therapy time or simply move further from the device. If there is no sensitive reaction whatsoever, it is safe to increase therapy time to 15-20 minutes.
Big changes in your skin likely won't be noticed right away. This is because the healing is occurring at the cellular level. Cells require time to heal and regenerate, so noticeable improvement should be seen after 8-12 weeks of consistent treatment.
What Is Red Light Therapy Used For?
Red Light Therapy is a treatment used to help muscle tissue, skin and various other body parts heal effectively. This therapy is performed by exposing an individual to a low level of red or near-infrared light. You will not be able to see the infrared light, but your body can feel it as heat. Red Light Therapy can also be referred to as Low-Level Laser Therapy, Photobiomodulation and Low-Power Laser Therapy.
The patient will start by having their skin exposed to a lamp or some other device featuring a red light. One part of your cells called mitochondria will soak up the light to create more energy. The mitochondria is often referred to as the "power generators" of the cells. Some medical experts believe Red Light Therapy helps cells repair themselves, while also improving overall health. This will stimulate skin and muscle tissue healing processes.
Red Light Therapy treatments use very low levels of heat. This will not burn nor hurt the skin. For those wondering, no, this is not the same type of lighting used in tanning booths. This therapy will not expose your skin to harmful UV rays. Red Light Therapy is primarily used to treat dental pain, dementia, tendinitis, wrinkles, hair loss and osteoarthritis.
Red light therapy can be used to treat the following issues:
Skin Care
Hair Loss
Muscle Healing
Anti-Aging Therapy
Arthritis
Joint Pain
Chronic Skin Disorders
Red Light Therapy Benefits
Many people have suffered from chronic skin conditions related to sun exposure. Red Light Therapy utilizes wavelengths of light to promote healthy cellular activity. By increasing blood flow to the scalp, while also stimulating the metabolism of hair follicles, this therapy can certainly help with hair loss, as well.
Just like PEMF Therapy, this can be used to decrease inflammation. Mostly, individuals will undergo Red Light Therapy to decrease inflammation related to joint pain. As mentioned earlier, Red Light Therapy can stimulate the healing process. This is especially useful for today's athletes. Let Red Light Therapy help your muscles recover as quickly as possible.
One study showed people who undergo 30-minute treatments regularly see an overall improvement in sleep quality. Individuals struggling with weight loss often turn to this therapy. Red Light has been proven to raise the resting metabolic rate, which results in more calories burned while resting. This therapy can be effective for stabilizing dying nerve cells, and one day potentially serving as a treatment for Parkinson's disease.
Red light therapy benefits include the following:
Improves Skin Condition
Repairs Hair Loss
Decreased Inflammation
Helps Muscle Recovery
Sleep Better
Weight Loss
Treats Degenerative Brain Disorders
Jolt PEMF Lab In Scottsdale, AZ
Jolt PEMF Lab provides critical energy the body needs to make new, healthy cells. It is a place to recharge, repair, and maintain optimal health through stimulating cellular repair. PEMF is the science of creating health and addressing the root causes of chronic disease and pain. Jolt PEMF, located in Scottsdale, AZ, simply gives your body the energy it needs to support its own natural healing. Our mission is to transform your health, body, and energy and that through results, PEMF will become the future of healthcare. Contact us for a free consultation today!
More Articles About Health