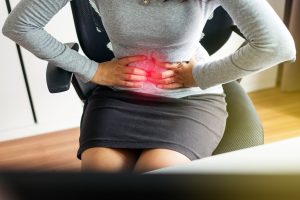 There are numerous factors that can determine how long food takes to digest and pass through the body. Similarly, there are also a few proven ways to digest food faster.
Eat More Fiber
Fiber-rich foods, including leafy vegetables, whole grains and fresh fruits, add bulk to your feces and help stimulate bowel movement. Introduce the larger amount of fiber to your diet gradually, as this can result in gas, cramps and bloating.
Eat Less Meat
It's no secret that meats, milk, refined carbohydrates and hard cheeses pass slowly through the digestive tract. This can slow peristalsis. Other foods, such as white flour, instant oatmeal and sugar, can have the same effect.
Exercise Daily
The amount of regular exercise will obviously vary from person to person. How much extra time do you have in the day? Regardless of what works for you, exercising at least 30 minutes per day has been shown to improve circulation and boost the immune system. Being less active can slow down peristalsis, which greatly increases your transit time. Lack of exercise can lead to constipation and overall discomfort.

PEMF Therapy
PEMF Therapy has the unique benefit of supporting digestion at the cellular level. Electromagnetic fields have the potential to activate the parasympathetic nervous system—the body's rest and digest response—at the same rate as manual acupuncture. This crucial system stimulates digestion and activates metabolism. The gastrointestinal tract is comprised of cells just like every other part of the body. This is why PEMF can be so effective with such a wide diversity of issues. Adhering to a healthy lifestyle including eating less processed foods, limiting stress and correcting energetic imbalances from a cellular level are very important to the digestive system.
Drink More Water
Every person should be drinking as much water as possible. Drinking water as soon as you wake up for the day will give your skin a more hydrated and healthy look. Consuming the recommended 8 glasses of water per day helps keep the feces moist, which improves transit time. A transit time of 72 hours is considered slow and can result in colon irritation, increase in risk of diverticulitis, candidiasis and cancer.
Eat Yogurt
Yogurt contains live bacteria cultures which help promote health digestion-enhancing bacteria that lives in the intestines. Other foods like sourdough bread, soft cheeses and sauerkraut can similarly help aid the digestion process.
Jolt PEMF Lab In Scottsdale, AZ
Jolt PEMF Lab provides critical energy the body needs to make new, healthy cells. It is a place to recharge, repair, and maintain optimal health through stimulating cellular repair. PEMF is the science of creating health and addressing the root causes of chronic disease and pain. Jolt PEMF, located in Scottsdale, AZ, simply gives your body the energy it needs to support its own natural healing. Our mission is to transform your health, body, and energy and that through results, PEMF will become the future of healthcare. Contact us for a free consultation today!
More Articles About Health